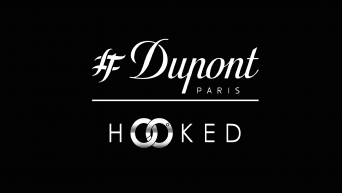 S.T. Dupont reinvents itself - young appearance with a modern logo. HOOKED, the new lighter with addictive potential! "Addicted" is also the translation of HOOKED from English. The different designs of this new line illustrate various dependencies such as the penchant for speed with the TURB-O model. The HOOKED design is French, as is the conception and quality control by the engineers and technicians from S.T. Dupont. The new logo is a combination of the S and T of the original brand logo and is arranged to form a "#" to give it a contemporary touch. It is a single-flame jet lighter with a particulary large gas tank. This is sufficient for approx. 220 ignitions per gas filling. THE new entry-level lighter from S.T. Dupont for an incredible price of EUR 49. The lighters are also equipped with a removeable ring, so that you can always keep the lighter safely with you or use it as a key fob. The gas nozzle of the lighter is protected from dust by a cover. It is also special that 60% recyclable material is used for this collection and that Dupont would like to break new ground. Easy to use and resistant lighter with high quality material and attractive design. The HOOKED lighter is sold with a 2 year guarantee. The lighters should only be refilled with the HOOKED gas, wich has specific proportions of butane, propane and isobutane that guarantees optimal gas flow and handling.
All prices include already VAT. Free shipping from £92. For order value under £92 additional
shipping costs
apply. Strikeout prices are suggested retail prices.