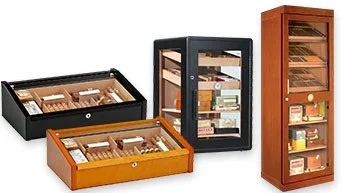 Cigar cabinets, every enthusiastic cigar aficionado's dream and the ultimate solution to the increasingly urgent space problem experienced by most serious cigar lovers at some point in time. Ideal for restaurants, retail, hotels, clubs and offices. Plenty of space to age some of your favourite cigars .

Most humidor cabinets have shelves or trays for presentation and storage of individual cigars in addition to storage areas for whole boxes.

Uniform air circulation is especially important in humidor cabinets, so that no moisture pockets form. Ventilation gaps at the back and front of the cabinet are essential to the circulation of the humidified air. The use of an electronic humidification system is strongly recommended; its fans ensure a regular movement of the air inside the cabinet.
All prices include already VAT. Free shipping from £92. For order value under £92 additional
shipping costs
apply. Strikeout prices are suggested retail prices.