Double Blade Cigar Cutters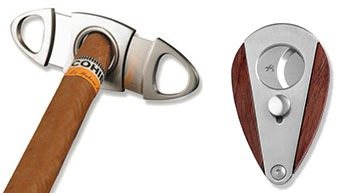 Double blade cigar cutters are probably the most widely used tool for cutting cigars. Two sharp blades and a convenient size make them a popular choice. The two blades descending on the cigar from opposite directions, reduces the pressure applied to the cigar during the cut to a minimum. Some models come with a spring mechanism which prevents the blades from opening unintentionally and are equipped with a button for releasing the closed blades.
All prices include already VAT. Free shipping from £92. For order value under £92 additional
shipping costs
apply. Strikeout prices are suggested retail prices.