1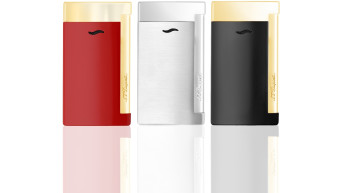 S.T. Dupont Slim 7 - The thinnest luxury lighter in the world



Ultra flat, ultra thin and ultra light are the attributes of this lighter collection from the French noble manufacturer S.T. Dupont. 
A revolutionary luxury lighter that fits in any trouser or blouse pocket. With its contemporary design, its functionality and its outstanding quality, it is one of 
the most reliable smoking accessories ever. 
In a world in which everything is becoming flatter and thinner, especially in technology, one had to join this revolution.



The design and functions of the Slim 7



With a width of 3.7 cm, a height of 6.7 cm, a thickness of only 0.7 cm and a weight of 45 grams, this lighter is your favorite companion on the go. 
Since noble and classic design both women and men prefer, with 10 different models there should be something for every taste.


An

 air inlet in the form of an S on the front and back of the lighter is provided with a protective grille inside to protect the lighter from dust and fluff. 


The Slim 7 is equipped with a powerful and wind-resistant jet flame with a flame width of one cm.




The Slim 7 is ignited with the push button that can be operated on the side, which is marked on the front with the S.T. Dupont engraving is provided.





Additional information about the lighter



A complete filling of the gas tank is sufficient for approx. 140 ignitions. The lighter can be refilled on the underside and its flame intensity can be regulated 
with a simple screw in the plus or minus direction. 
A protective mechanism ensures that the lighter cannot be accidentally ignited upside down if it is held upside down in your hand. 
Before refilling your lighter, you should vent it to allow air to escape from the gas tank. 
You do this by pressing the valve with a pointed object such as a ballpoint pen until you can no longer hear any air escaping. Each Slim 7 lighter includes 
a velvet case to protect the surface of the lighter.

The thinnest luxury lighter in the world






Noble and contemporary design





All prices include already VAT. Free shipping from £92. For order value under £92 additional
shipping costs
apply. Strikeout prices are suggested retail prices.