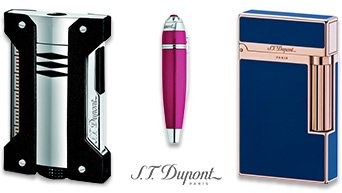 S.T. Dupont lighters are costly, classic and mostly crafted by hand. The owner of a Dupont lighter has style and values perfection in every detail, both tactile and visual. The Dupont Ligne 2 lighter is world famous for its distinctive sound, a bright *ping*. The classic Dupont Ligne 1 is available in various sizes, the handy Dupont Ligne D is a beautiful ladies' lighter. The classic Dupont with normal flame can be upgraded with a pipe lighter nozzle or a cigar lighter nozzle for Dupont lighters. There are several Dupont limited edition lighters. The X.tend MaxiJet and Minijet series are modern torch flame lighters. The latest addition to the S.T. Dupont assortment is the Dupont Ligne 8 where classic lines meet modern colour to appeal to a younger audience.
All prices include already VAT. Free shipping from £92. For order value under £92 additional
shipping costs
apply. Strikeout prices are suggested retail prices.