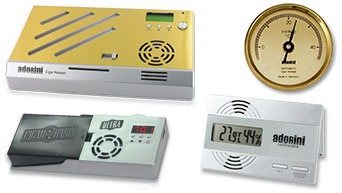 An efficient humidification system and an accurate hygrometer are key to keeping cigars in optimal condition. Cigar humidifiers range from simple passive humidifiers to electronic humidifiers. Humidity can be measured with digital hygrometers or analogue hygrometers which can be based on different mechanisms.
All prices include already VAT. Free shipping from £92. For order value under £92 additional
shipping costs
apply. Strikeout prices are suggested retail prices.