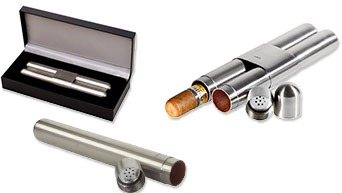 Metal cigar cases are rigid and robust. Cigars in a metal case are well protected and remain intact, even under rough treatment. This is the ideal choice for outdoor activities, as it will protect your cigars, even in the rain. Adorini metal cigar cases stand out with models lined in Spanish cedar and miniature humidification units that effectively turn them into small portable humidors.
All prices include already VAT. Free shipping from £92. For order value under £92 additional
shipping costs
apply. Strikeout prices are suggested retail prices.