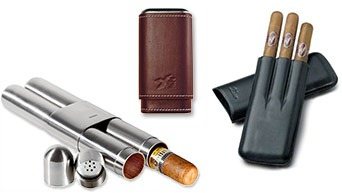 Cigar cases will look after your cigars while you are on the move. They come in different sizes for single or multiple cigars. Leather cases are light and elegant. Metal cases provide stronger protection to prevent cigars from being squeezed or getting wet in the rain. Some cases even have Spanish cedar lining and integrated humidifiers to keep your cigars in perfect condition.
All prices include already VAT. Free shipping from £92. For order value under £92 additional
shipping costs
apply. Strikeout prices are suggested retail prices.