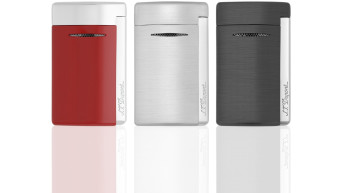 S.T. Dupont Minijet - The classic among the handy jet lighters



The luxury goods manufacturer S.T. With its Minijet lighters, Dupont offers smokers a wide range of colors and designs. 
There is something for every type, whether elegant, timeless or modern with bright colors and color accents. 
With a weight of only 50 g., A height of 55 mm, a width of 33 mm and a thickness of 12 mm, the lighter becomes 
a practical little flatterer that fits in any trouser or shirt pocket, 
especially thanks to its rounded edges.



The design and functions of the Minijets



On the front and back of the lighter you will find an air inlet in the form of a flame or, interpreted differently, in the form of an S, which stands for
the first initial in the brand name S.T. Dupont stands. Behind this air inlet there is a protective grille inside the lighter to prevent contamination. 
The Minijet is also equipped with a dust-proof burner nozzle. The automatically closing protective cap ensures a long-lasting burning mechanism, as it is always 
protected from lint and dust.
The lighter is operated by pressing the chrome-colored push button on the side, which of course is connected to the S.T. Dupont engraving is provided. 
If the lighter is upside down in your pocket, you do not need to fear accidental ignition, because these lighters are equipped with a great safety mechanism. 
As soon as the lighter is upside down, the protective mechanism works and the gas flow is blocked, so you cannot accidentally ignite the lighter if it is 
the wrong way round in your hand.





Additional key facts about the lighter



With a tank capacity of approx. 85gr. one complete gas filling is sufficient for approx. 210 ignitions. The jet lighters from S.T. Dupont are equipped with one of the
most reliable piezo ignition systems in the world, the manufacturer offers a guarantee of 2 years from the date of purchase. 
The flame height can be adjusted on the underside of the lighter with a simple plus / minus adjustment. 
In the gas tank itself, two textile strips are built into which are impregnated with activated carbon; these are in the tank to filter impurities and 
ensure the longevity of the piezo ignition system.
Despite the protective caps over your burner nozzle, you should regularly check them yourself for contamination and remove them if necessary. 
Also good to know: Before filling your lighter, you should first bleed the gas tank. 
You do this by pressing the nozzle of the filler valve with a pointed object such as a ballpoint pen and letting any air remaining in the tank escape.
All prices include already VAT. Free shipping from £92. For order value under £92 additional
shipping costs
apply. Strikeout prices are suggested retail prices.